Premiere Pro produces an error message including the text "[..\..\Src\EditingModelFactory.cpp-1101]".
Possible Solutions
Edit
- Is this a older project from CS3 or earlier?
- Does the clip you're dragging to the timeline have a speed adjustment applied to it?
- Does the same clip load correctly in the source monitor?

For reference, this error:

[..\..\Src\AESupport\AEInData.cpp-712]

means that a clip's filter has been asked to render at a time value that is less than zero, which is an illegal operation.
Hence the above questions...
Error 727 can also be caused by a combination of plugins and the order in which you place them. For instance i used the TWIXTOR plugin in combo with the DE:Noise plugin, both from RE:VISION. After removing the DE:Noise plugin the error was gone. But more interesting was PLACING the DE:NOISE BEFORE the Twixtor plugin in the effects panel.  :) Then also the error gets removed. It's really a specific situation but keep in mind that combined plugins can cause conflicts, especially with nested clips!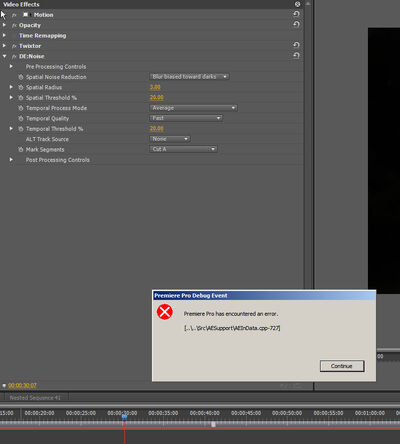 Ad blocker interference detected!
Wikia is a free-to-use site that makes money from advertising. We have a modified experience for viewers using ad blockers

Wikia is not accessible if you've made further modifications. Remove the custom ad blocker rule(s) and the page will load as expected.